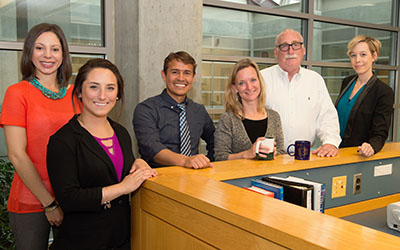 As it marks its fifth anniversary, the Lerner Center for Public Health Promotion, based in the Maxwell School, is taking stock of its growth and accomplishments—an impressive list that includes collaboration and needs assessment in the local community, specific outreach and information projects related to healthy practices and nutrition, an endowed professorship focused on public health and a staff of professionals and graduate-student fellows operating and promoting the center's programs.
The anniversary also brings an opportunity to set new goals for the future, according to Tom Dennison, faculty director of the Lerner Center.  "It's part of completing a new strategic plan, to fine tune and build upon the success of these first five years," says Dennison, who also serves as advisor for the Maxwell School's certificate program in health services management and policy.
The Lerner Center was created in mid-2011 with a generous founding gift from Sid Lerner '53 and his wife, Helaine. Sid Lerner is a former advertising and marketing executive who developed, in later life, a strong interest in how uninformed eating and lifestyle habits contribute to chronic disease. Employing the lessons of his advertising career, he is committed to combining sound research on public health policy with modern publicity and promotion efforts to encourage better wellness practices by individuals and communities. "I think prevention is the only way out of the health crisis," he said when creating the Lerner Center.
As long ago as 2003, Lerner pioneered the Meatless Mondays and Healthy Mondays campaigns. The subsequent establishment of the Lerner Center powerfully combines public health research with his ultimate goal: using creative marketing to spread the science behind healthy living.
The center's first move was public health needs assessment, conducted in forums with Syracuse-area health professionals, business leaders and other stakeholders and community members. Growing out of that assessment, the Lerner Center has embarked upon an already long list of collaborative projects:
Monday Mile walking routes—17 in Onondaga County, and more launching this summer in Madison County. Monday Miles are one-mile trails that provide residents with safe and accessible walking options. Trails have been developed in partnership with the City of Syracuse, Onondaga County, city parks, local hospitals and the Madison County Rural Health Council.
A collaboration with Syracuse's Near Westside Project, Nojaim Brothers Supermarket and St. Joseph's Hospital Health Center that is bringing healthy grocery options to the Near Westside. The project is supported by a $250,000 grant from the New York State Health Foundation and employs the NuVal nutritional rating system to help customers prioritize purchases.
A project, funded by the NYS Health Foundation, to support Onondaga County's efforts to reduce perinatal substance use.
A small collection of initiatives, conducted with the Onondaga County Health Department and state-funded, to promote a culture of health in schools.
Collaborative efforts to improve the built environment in the Near Westside, to increase safety and thereby positive activity in the neighborhood. With Skiddy Park as the focal point, this project includes a renovated box soccer court, a renovated field house and collaborative planning with local teens to make the park inviting again.
These projects run alongside the Healthy Monday Syracuse program, which provides free fruit, wellness-related classes, walking routes, education programs, meatless-menu counseling and a host of other programs to the SU campus and, increasingly, around town. It is all promoted with social-media campaigns and other methods of outreach and education.
The center staff and faculty have grown since its inception. Professional staff includes Rebecca Bostwick (program director), Leah Moser (assistant program director) and Roberto Martinez (program coordinator). Cynthia Morrow,  former health commissioner of Onondaga County, joined the center in 2015 as the inaugural Lerner Chair.
The Lerner Center also plays an important role in the education of future healthcare and health policy professionals. The center employs four graduate students every year as Lerner Fellows; four M.P.A. and master's of public health students work with the center, conducting research and helping implement the outreach program.
According to David M. Van Slyke, dean of the Maxwell School, the Lerner Center promises to have "global impact"—linked, as it is, with Maxwell's national and internationally focused research, teaching and executive education training. "We're enormously proud of all that the Lerner Center has accomplished in its first five years," he says. "We embrace their ambitious goals and will work with them to serve a shared commitment to improving health and well-being for all peoples, in Syracuse and around the world."
For his part, donor Sid Lerner is elated by the center's progress to date. "Our hearty congratulations to Tom and Rebecca and their super Syracuse startup teams in getting the center up and running so well these first five years," he says. "Here's to the next five years of great, Syracuse-inspired public health promotion!"